Asheville Painting-Accent wall tips
Asheville Painting is picking up with interior work as the cold winter weather settles in. A common design technique for interior spaces is the use of an accent wall. The most difficult thing about creating an accent wall is choosing the wall and the color.
An accent wall is a designing technique that allows one wall to become the focal point by painting it a coordinating color that is different from the other walls. This may seem like a fairly easy thing to decide upon but choosing the right wall and color can make the difference between a beautiful, well put together look and a mess.
Choosing the right wall: Is there a wall that draws your attention when you walk into a room? This is the most common way to choose an accent wall. There are a few other ways to consider before making your decision. Is there an architectural feature that you like and would like to stand out when you or your guests enter the room.
Consider the room shape and size of the room as a whole. If the room is long and narrow you may want to choose the farthest wall from the room entrance to bring it into the rest of the room. A shared space like a kitchen/dining room could benefit by an accent wall to separate the two areas. This is an example of an accent walls that does not do the room justice. The two awesome features in this room, the fireplace and the geese, are lost on a white wall.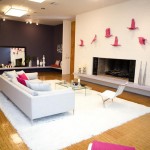 Choosing the right colors for your space:
Once you have chosen your wall you now need to choose a color. Here are a few important things to remember when choosing the color. If you don't plan on changing your décor in the room- choose colors that compliment what you have. Your main wall color and your accent wall color should be of the same paint spectrum or family with the accent wall being brighter or darker than the main wall color.
Consider the amount of light the room gets- if it doesn't get a lot of light you may want to stick with lighter colors to help brighten it up.
What is the room's purpose? If it's a small reading room- you may want to use colors that promote calm and quiet. If it's an entertaining space perhaps bright and bold. This is an example of an accent wall done right. The color is bold as it gets lots of natural light, they accented their existing decor and created an inviting space that is fun.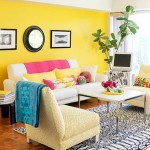 ON a final note I  I would like to take a moment to encourage you all to have fun with this- it is only paint after all.